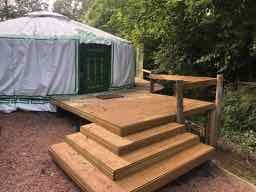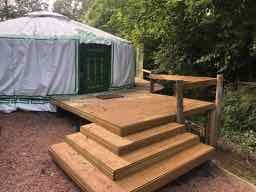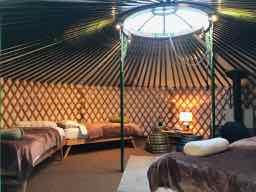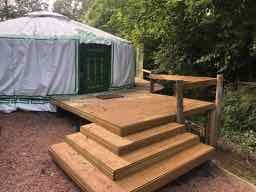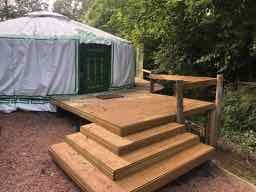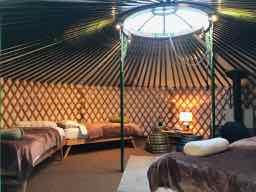 The Yurt Haven is a truly beautiful space in rural East Devon.
Whether you want to come alone, as a couple, with friends or with your children it truly caters to all occasions.
It has loads of space and different zones to allow you to rest and reset, relax and have fun whilst in a nature inspired space... 
It gives you the experience of getting back to basics and yet it's fully equipped with all creature comforts.
This is a very private secluded space at the back of our property.  Surrounded by trees, and next to a small stream, it is a really magical experience.
THE YURT HAVEN INCLUDES:
All the below is just for you.  We only have one booking at a time.  
Mongolian Yurt - original & super beautiful, with a wood burning stove.
Separate cabin with kitchen, dining table and shower room. 
Compost toilet along walkway bridge from the yurt deck.
Sauna cabin with covered outdoor area and seating next to the stream.
Outdoor seating & picnic area with fire pit
HOW MANY DOES IT SLEEP?
The Yurt can be adapted in various ways.
4 x Single Beds
1 x King Bed and 2 x Single Beds
1 x King Bed and a Sofa
INCLUDED:
Towels & Bedding & Electric Blankets
All provided.  You're welcome to bring your own if you prefer.
Fully Equipped Kitchen
Induction Hob, Microwave, Kettle, Toaster, Coffee Cafeteria, Pots & Pans, Plates / Cutlery. 
Wifi
OPTIONAL EXTRA'S
If you'd like to include a wellbeing class or 1:1 therapy let me know.   
movement classes: yoga / somatics / moving body meditations (£60 1hr, £80 1.5hrs)
1:1 session: coaching / hypnotherapy (£60, 60-75mins)
ADDRESS
Kerswell, East Devon, EX15 2EN
QUESTIONS
oliviafletchie@gmail.com
07947 472 135
COST
Prices change throughout the year to reflect low and high season.  
BOOKINGS
Please go to our AirBnB listing - https://airbnb.com/h/ravenshaven