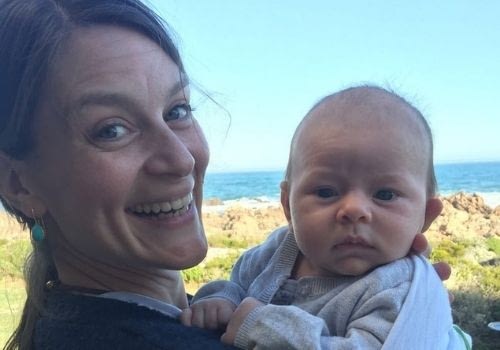 Initiation into motherhood: intuition, self-belief & standing strong
I was genuinely excited and looking forward to going into labour, much to the amusement of many 😉  I've long held a positive view on natural birth, can put myself into a hypnotic trance and I know my body really well through almost 20yrs of yoga and body practices… so whilst I wasn't totally deluded thinking it would be all fairy dust and daisy chains, I did figure I was pretty set up for it 😉  And so I planed for a drug free, home birth, birthing pool, dimmed lights and minimal intervention from the midwifes… you get the picture.
As with most plans, it's often the thing you didn't consider that presents itself…
And for me it was not going into labour until 43 weeks…
To paint the scene for those who don't know, this isn't the done thing.  At 40 weeks you're asked to set a date to for your labour to be medically induced… with 42 weeks being the absolute end of this golden window.
And this is where it began to get stressful… truly challenging me to trust in myself, my intuition and stand by my convictions.
I wanted to do what was best for me and my baby, not what protocol suggested just for the sake of it… Please don't get me wrong, this was not a light decision that I made flippantly on some kind of 'alternative hippy stance'… however having done a whole heap of research around this (by which I mean a WHOLE MEGA HEAP that made my head hurt and felt like I'd returned to university), I decided didn't want to be induced (until, of course, I felt there was reason to do so)…
This decision meant challenging the status quo and thus the last few weeks of my pregnancy took place in a rather unpleasant 'no mans land'… with the medical profession and general public opinion on one side… and myself and a small community on the other.  It was a lonely place.  And as someone who self-admittedly likes reassurance and approval, this truly tested my knowledge, intuition and self belief that this is ok… and that 'I am enough'.
41 weeks came and went… and then 42 weeks… the pressure from the hospital mounted… I saw around 8 senior consultants, all briefed with trying to get me to follow their protocol… an hours consultation (lecture) became a daily norm… as were the tears that usually resulted afterwards.
To say I had self doubts was an understatement.  My choice to let my baby come when it was ready was something I questioned daily.  Often hourly.  I constantly had to check in with myself to ensure I wasn't being stubborn or defiant. Yet each time I checked the answer to keep waiting came deep from within.
Going against the medical profession was distressing, lonely and nerve wracking.  It tested me in many ways… the trust and knowledge of my body… my faith… my intuition… my ability to research, critique and digest information & medical journals… my ability to withstand preaching, judgement and negative commentary (even though usually meant as well meaning advice)… feeling undermined, sometimes being undermined such as hearing 'I don't care about your research' from a doctor when I'd printed out research that supported my decision from the British Medical Journal and World Health Organisation… and mostly it tested my ability to stand strong when I felt so alone…
I finally agreed to be induced at 43 weeks and 3 days. This decision also wasn't taken lightly.  And I found myself feeling incredibly guilty for my unborn baby… already I'd not been able to stand strong for him… when I knew in my heart he was fine.  Yet on reflection I was able to realise that I was still standing strong for him… because I'd realised the stress of standing in opposition was beginning to damage my health… and that undermined what I was trying to achieve – a healthy birth for my baby.
I feel wholly grateful that I went into labour at 43 weeks and 1 day and so avoided hospital induction…
Labour began at home, but I was transferred into hospital by the homebirth team.  My total labour was just under 24hrs and drug free.  There were times when I truly believed I couldn't do it, lost all hope and begged for drugs 😉  Something within me, or a comment from my husband or doula would then help me reconnect to my birthing process. Each time I would go deeper.  I found reserves and places within me that I'd not encountered before.  I went into trances that felt like I was connected with a world wide tribe of wise women who'd birthed before me… and experienced 100's of them there in the room with me, supporting, encouraging and holding my birth. It was the most intense experience of my life.  It was the most powerful experience of my life.  It was real and raw and beautiful. And that's saying something because I vomited the whole way through it 😉
Finn was born healthy and thats really all that matters and all I was trying to achieve.
There are still parts of my birth I'm yet to come to terms with.  Am still processing.  However what I have come to terms with is this.
I did the best that I could.
I trusted in myself.
I knew where my limits were.
I knew when to stand back.
I am human.
I am me.
I am enough.
I am more than enough.
Olivia x